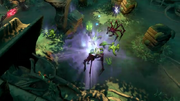 The Arachno Striker is a template creation made by MaxisCactus, and will likely be used for another Template Challenge. There are two original versions of this, 'Arachno Striker Template', and 'Arachno Striker Template Non CC' ('Non CC' means that it is not using the Creepy & Cute parts pack). The Arachno Striker is believed to be a Necro character, due to it's name and appearance, however, it is not known for sure.
The Arachno Striker was recently shown in Maxis's new video of the Darkspore Editor.
Ad blocker interference detected!
Wikia is a free-to-use site that makes money from advertising. We have a modified experience for viewers using ad blockers

Wikia is not accessible if you've made further modifications. Remove the custom ad blocker rule(s) and the page will load as expected.