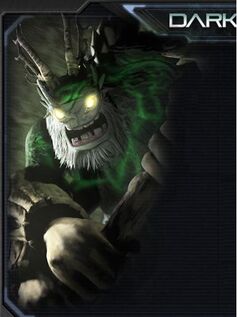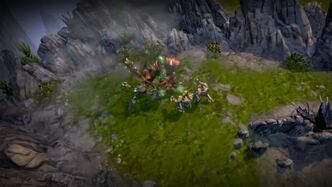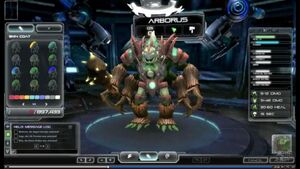 Arborus: The Veridian Protector is a Bio Sentinel from Darkspore. He has an appearance akin to that of a troll or ogre with arms and legs like those of tree limbs.
Revelation
Edit
Arborus was revealed alongside Zrin, his first appearance being in an early image at ComicCon 2010. However, his name and model were still under much development, so he was not seen or named for a long period. He was eventually seen in his final form in the PvP developer diary, and finally, on /01/26/11/, his name was revealed when he was seen in a video showing him in the editor.
Every millennium, the denizens of Verdanth install their six hundred most ecologically harmonious minds as their Ikuyu, the Gods of the Infinite Green. In their divine order, the gods of Verdanth regulate their planetary biosphere and construct the next epoch of their culture.
When the Darkspore brought contamination, warfare and death to Verdanth, Crogenitor Astra was less concerned with galactic defense than with irreplaceable experimental conditions. Genetically enhancing scores of Verdanthi to find which could become the most resilient and the most hyper-kinetically powerful, he found a candidate who surpassed all others: Arborus.
Prefect Arborus had been nowhere near attaining godhood. But the Darkspore's mass deicide meant hundreds of insufficiently-prepared Verdanthi had no choice but to stand in their planet's defense.
Linked to all the other Gods of the Infinite Green, Arborus wielded powers he never could have wielded alone: splitting mountains, redirecting rivers and spawning volcanoes, all to rid his world of the despised Darkspore. He hoped that one day he could guide his world to even greater expressions of biological beauty and diversity, and perhaps eventually explore the stars. But with Verdanth under siege, Arborus was determined to defend his biosphere... by any means necessary.
Abilities
Edit
Arborus uses his club to bash enemies as a basic attack. According to his lore, Arborus also has the abilities to summon earthquakes and volcanoes.
Splintering Cleave (Basic Ability) A sweeping attack that deals 6-12 physical damage to both the target and another nearby enemy. If Arborus swings four times in succession, the final hit will instead deal 12-24 physical damage to a single target.

Entangling Rush Charges at a single target, dealing 32-48 physical damage to that enemy. Thick roots will grow around the target, entangling all enemy within 6m for 8 seconds.

Healing Spore Summons a flying creature which periodically heals Arborus or allies for 16-32 health. The creature will vanish after 30 seconds.

Arboreal Might (Squad Ability) Enrages Arborus increasing all damage by 10%. The enrage lasts 15 seconds and stacks up to 5 times. When an enemy dies within 20m, the duration is refreshed.
Arborus' earliest design had 6 arms, and more resembled bright green blob with branch-like tentacles than a brown, tree-like troll/ogre.
His name is derived from the Latin word arbor, meaning 'tree'.
Ad blocker interference detected!
Wikia is a free-to-use site that makes money from advertising. We have a modified experience for viewers using ad blockers

Wikia is not accessible if you've made further modifications. Remove the custom ad blocker rule(s) and the page will load as expected.