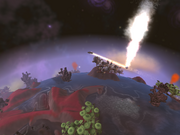 Missing icon. SVG and PNG are preferred, but JPG is also accepted.
"Use on a planet to summon an asteroid, raising the temperature and lowering the atmosphere level."
The Asteroid Call Button is a terraforming tool. When used, the player's spaceship projects a long tractor beam into outer space, which it uses to drag down a large flaming meteor and smash it into the planet. This raises the temperature and lowers the atmosphere level. Alternatively, it can be used a weapon against enemy cities.

Acquiring
This tool uses purchased ammunition.


This requires the Empire (badge) 3 or the Missionista 4 badge.
Locations
This tool can be purchased in the following locations:

Your Empire : §225,000
Bard Empire : §135,000
Ecologist Empire : §112,500
Scientist Empire : §135,000
Zealot Empire : §135,000

Ad blocker interference detected!
Wikia is a free-to-use site that makes money from advertising. We have a modified experience for viewers using ad blockers

Wikia is not accessible if you've made further modifications. Remove the custom ad blocker rule(s) and the page will load as expected.