"Place on a planet to reduce the likelihood of Eco Disasters"
The Bio Stabilizer is a colonization tool that will reduce the likelihood of a biological disaster.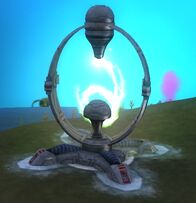 Details
Health: 10,000
Other Notes:
Can only place one Bio Stabilizer per planet.
Can only place on a planet owned by your empire.
The Bio Stabilizer should be placed after level 5 Eco Hero badge, since if there are less eco disasters, you will get the badge slower.
Bugs
The same as all the other colony "Booster" tools, if another is placed on top of it before it has fully formed, you can place multiple on top of each other, and if fast enough, all of them can be placed on one spot.

Acquiring
This tool uses purchased ammunition.


This requires the Zoologist 3 or the Eco Hero 4 badge.
Locations
This tool can be purchased in the following locations:

Your Empire : §300,000
Ecologist Empire : §150,000
Scientist Empire : §180,000
Shaman Empire : §150,000
Trader Empire : §195,000

Ad blocker interference detected!
Wikia is a free-to-use site that makes money from advertising. We have a modified experience for viewers using ad blockers

Wikia is not accessible if you've made further modifications. Remove the custom ad blocker rule(s) and the page will load as expected.