Captain Outfitter
Talk

31
1,386pages on
this wiki
The Captain Outfitter is included in Spore Galactic Adventures and allows you to equip your Captain with new parts such as swords, lasers, pulses, and hypnotism rays. It also adds 32 new abilities such as Royal Charm, Summon Swarm, Plasma Pulse and a Jetpack.
There are diplomatic abilities such as Bard tools, and weapons such as Warrior tools. You unlock new weapons and abilities by advancing a rank. Advancing one rank gives you the ability to choose one accessory from one of the ten different classes. You must unlock the first item in a class to unlock the second item, the second to unlock the third, and so on and so forth.
Every Archetype, except Knight and Wanderer, has its own row of equipment. When you unlock all the parts in an Archetype row you gain that Archetype's superpower. e.g. you get Raider Rally after unlocking all the Warrior parts, even if you are for example a Trader. This is especially handy if you happen to be a Zealot or Scientist, whose superpowers are impractical.
If the player wants a captain that can inflict a lot of damage or socialize very quickly, Warrior and Bard parts can be "upgraded" with a power handle that makes them larger and stronger. However, larger weapons require more energy to use, so unless your Captain is very energy efficient, they will not be able to use these abilities for long. Weapon size has no consequence on your creature's mobility. Captain parts have no cost in the editor, though they do register on the complexity meter.

Warrior - Energized Weapons, providing extra combat ability
Shaman - Weapons which provides extra combat ability
Scientist - Energy Restoration, able to conserve energy
Ecologist - Health, able to give more health to survive longer
Diplomat - Social diplomatic tools, increases social capability
Bard - Energized Social, increases social capability at a higher degree
Trader - Movement Abilities - able to maneuver better within situations
Zealot - Armor which provides extra protection.
Occasionally, if you put Hop Gogs on a creature and you make them dance, the disco floor will appear under them, but they will not dance.
The Bladed Knuckles are similar in appearance to the Lightning claws of Warhammer 40,000.
The health boost parts used in the tribal stage can also be added to your space captain for a small health boost.
The Zealot armour is similar to medieval period European knight's armor, but the helm looks like a spanish conquistador's helm (this may be a reference to the achievement of the same name).
The Power Battery has a striking resemblance to the health-meter on the back of the RIG from Dead Space,also made by EA.
The Stealth Helmet is similar to the Halo ODST BBH (Ballistic Battle Helm), without the mouthpiece and visor and in the classic movie, Predator, the monster can turn invisible. Also, in ancient Greek mythology, Hades, the god of the Greek underworld, used a helmet that made the wearer invisible. At one point the helmet was used to sneak into the Titans' stronghold during the war for Olympus.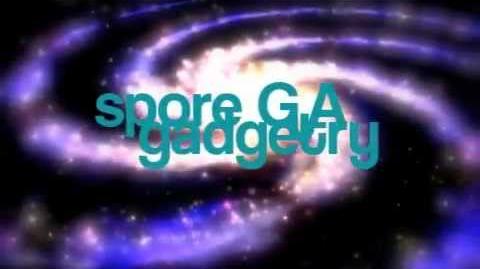 See Also
Edit
External Links
Edit
Galactic Adventures at Spore.com
Spore Expansion: Galactic Adventures