Ad blocker interference detected!
Wikia is a free-to-use site that makes money from advertising. We have a modified experience for viewers using ad blockers

Wikia is not accessible if you've made further modifications. Remove the custom ad blocker rule(s) and the page will load as expected.
The Captain Outfitter is included in Spore Galactic Adventures and allows you to equip your Captain with up to 32 new parts and abilities, alongside the clothing parts from the Outfit Editor. Abilities range from combat and survivability to socialising and mobility.
Captains can unlock up to 10 new weapons and abilities by advancing in rank, which is achieved by acquiring Captain Points (by completing missions). Advancing one rank gives you the ability to choose one accessory from one of the eight different sets of tools (referred to as a "tool-set"). Parts in a tool-set must be unlocked in order, going from left to right.
Every philosophy, except Knight and Wanderer, has its own tool-set of equipment. Collecting the fourth part in a philosophy's tool-set awards the respective philosophy's Consequence ability for saved games to use in the Space stage.
Warrior - Raw damage at a High energy cost
Shaman - Damage over Time and Inflicting ailments
Scientist - Energy Restoration and Capacity
Ecologist - Health Restoration and Capacity
Diplomat - Social abilities
Bard - Powerful social abilities at a High energy cost
Trader - Movement Abilities at the cost of energy
Zealot - Armor and Damage Reduction
Occasionally, if you put Hop Gogs on a creature and you make them dance, the disco floor will appear under them, but they will not dance.
As none of the effects from any of the parts stack, it is recommended to remove old parts when upgrades become available.
Due to a developer oversight, the armour parts from the Tribal stage will still increase the captain's health. The 'Singuard' part offers the best bonus of 10 additional health.
Obtaining consequence abilities (from unlocking the fourth part from a philosophy's tool-set) is especially useful if you happen to be a Zealot or Scientist, whose superpowers break the Galactic Code.
The Bladed Knuckles are similar in appearance to the Lightning claws from Warhammer 40,000.
They also appear similar to the claws of the comic and movie character Wolverine.
The Zealot armor is similar to medieval period European knight's armor, but the helm looks like a Spanish conquistador's helm (this may be a reference to the achievement of the same name). This is probably a reference to the fact that the Conquistadors had similar attitudes as Zealots do in Spore.
The Power Battery has a striking resemblance to the health-meter on the back of the RIG armor from video game series Dead Space, which was also made by EA around the time of Spore's release.
The Stealth Helmet is similar to those found in Halo ODST, without the mouthpiece and visor.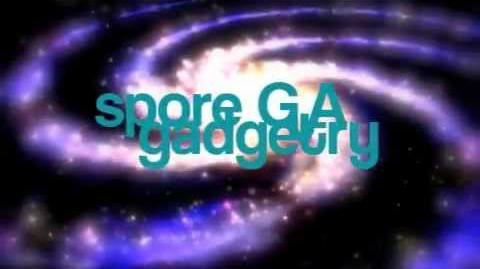 See Also
Edit
External Links
Edit
Galactic Adventures at Spore.com
Spore Expansion: Galactic Adventures