Civers

Abilities
Voice
Yes
Sight
Yes
Graspers
Yes

Racial information
Locomotion
Quadrupedal
Size
Medium
The Civers is a space faring Maxis made early creature, present in the final game. They have great part of their body covered with horns and space clothing, as well as hair.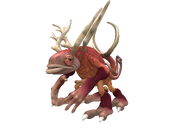 Ad blocker interference detected!
Wikia is a free-to-use site that makes money from advertising. We have a modified experience for viewers using ad blockers

Wikia is not accessible if you've made further modifications. Remove the custom ad blocker rule(s) and the page will load as expected.