Civilization Stage Unlocked
Just play enough of the Tribal stage. If you need help, see the Tribal stage page.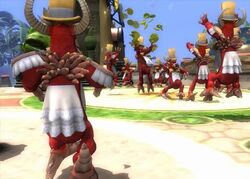 Tips and Tricks
Edit
Finishing the Tribal stage isn't required to get the achievement.
After allying and/or destroying all other tribes you will evolve to civilization stage and a brief cinematic will play where your tribe develops it's main vehicles and buildings.
Ad blocker interference detected!
Wikia is a free-to-use site that makes money from advertising. We have a modified experience for viewers using ad blockers

Wikia is not accessible if you've made further modifications. Remove the custom ad blocker rule(s) and the page will load as expected.