Creature Stage is a Featured Article

---

"Creature Stage" has been featured, meaning it was deemed an article of interest by the Community.
After a player's creature grows from a cell, they leave the sea and enter the Creature Stage, which is the first 3D stage of the game.
Overview
Edit
The idea of the Creature Stage is to evolve their creature from an enlarged version of the player's final avatar in the cell stage up to an intelligent species, their final avatar in the creature stage. There are many possible combinations of parts to create near-infinite varieties of creatures. The different creature parts give the creature different abilities, and in addition to these abilities your creature has one consequence ability gained by its behaviour in the cell stage.
During this stage, the aim is to gain DNA to increase the size of your brain, with the goal of evolving your creature to sapience. The main ways of earning DNA are either by befriending other creatures or by hunting them down; your creature's consequence abilities for future stages depend on which strategy you concentrate on, or if you choose a balance between the two.
Each time you increase the size of your brain you gain one space in your pack, which you can add befriended creatures to. You can gain a maximum of three spaces to add creatures to. The creatures in your pack can help you befriend or attack other creatures.
Creature Parts
Edit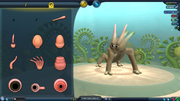 Before playing this stage, the player has a chance to edit their cell into a proper creature, albeit with cell parts. The player can add legs or create a slug. The parts you choose for your creature will decide which base parts you unlock. Similarly, the base parts you use the most will increase your chances of unlocking an upgraded version of that partSource needed.
If you're going for a particular look, you'll need to choose carefully. See each Parts section below for tables listing all the different parts and their DNA cost. More general information on limbs, eyes for sight, hands, weapons and accessories is given at their respective pages.
(Amphibious creatures or other such combinations are not possible, nor are subterranean or arboreal creature. There are no underwater portions of the game, except for the Cell Stage).
The abilities of the creature depend on the parts added in the Creature Editor. There are 4 combat abilities, 4 social abilities and 5 movement abilities.
The Grox have no creatures available for players to use. It is impossible to copy one into the creature editors without mods. Some players carefully study the Grox and add details until they fully make a Grox.
Attacking Abilities
Edit
Social Abilities
Edit
Other Abilities
Edit
Different body parts are found in Bone Piles scattered around the world. They can also be gained by being friendly towards or killing Alpha creatures of different creature types. If you have a certain part on your creature, newly discovered parts are more likely to be an evolved version of the parts your creature currently has. For instance: if you want more mouth choices, choose a low-level mouth and then look for bone piles to find evolved versions of that mouth.
Early Creature Creator parts
Edit
Parts in the Early Creature Creator are the same parts that were available in the Cell Stage. When constructing a creature in the Creature Stage these parts are only available at the very beginning of the stage; if you have evolved your creature from the Cell Stage then only the parts that you unlocked in the Cell stage are available. The abilities the parts give in the Creature Stage are somewhat related to their function in the Cell Stage.
Mouths

Filter Mouth - Herbivore. 15 DNA Points. Mating Call. Bite Level 1. Sing level 1. Allows you to eat fruit.
Jaw - Carnivore. 15 DNA Points. Mating Call. Bite Level 1. Sing Level 1. Allows you to eat creatures.
Proboscis - Omnivore. 25 DNA Points. Mating Call. Bite Level 1. Sing Level 1. Allows you to eat fruit and other creatures.
Note: If you were a Carnivore but put a Proboscis or Filter Mouth on your creature you will not obtain the diet's mouth, you will only get your Cell's or chosen diet. This works in all directions. It is still useful to do this to allow your creature to eat any food type.

Movement

Cilia - 15 DNA Points. Lets you jump. Jumping allows access into hard to reach areas.
Flagella - 15 DNA Points. Lets you sneak. You can sneak up on creatures or hide from attackers.
Jet - 25 DNA Points. Lets you sprint. Sprinting increases your speed greatly for a short time.

Eyes

Beady Eye - 5 DNA Points.
Stalk Eye - 5 DNA Points.
Button Eye - 5 DNA Points.

Weapons

Spike - 10 DNA Points. Charge level 1. Charge attacks a single target from a distance. You run up and stun them on impact.
Poison - 15 DNA Points. Lets you spit at another creature from a shortish range.
Electric - 25 DNA Points. Charms creatures.

Legs

Brawnysaurus - Speed Level 1. 50 DNA Points.
Phatella - Speed Level 1. 50 DNA Points.
Thundercalf - Speed Level 1. 50 DNA Points.
Type of Hand
1
2
3
4
Amphibious
Setaetarsal $25
Pose 2
Amphibigrab $75
Pose 3
Amphibigrip $150
Pose 4
Croak Masseur $250
Pose 5
Primates
Nubknuckle $25
Strike 1
Pose 1
Lockpicker $75
Strike 1
Pose 2
Opposabubba $150
Strike 2
Pose 3
Monstrumtalon$250
Strike 3
Pose 4
Cephalopod/Plant
Trapfist $25
Strike 1
Health 1
Succulenders $75
Strike 2
Health 2
Snatchengrabben $150
Strike 3
Health 3
Dexterrorous $250
Strike 4
Health 4
Bird
Bonestickler $25
Strike 1
Pose 1
Torsionwrencher $75
Strike 2
Pose 2
Health 1
Prongripper $150
Strike 3
Pose 2
Health 2
Tearerwrist $250
Strike 3
Pose 3
Health 3
Mammalian/Rodent
Phatlanges $25
Strike 1
Pose 1
Badgerbear $75
Strike 2
Pose 1
Ultrarolfer $150
Strike 3
Pose 2
Metacarnal $250
Strike 4
Pose 3
Lizard
Grubbygrabber $25
Strike 2
Velocigrasper $75
Strike 3
Hookencrook $150
Strike 4
Horrorthumbs $250
Strike 5
Insect/Crustacean
Butterbib $25
Pose 1
Health 1
Mitzy $75
Pose 2
Health 2
Classic Minion $150
Pose 3
Health 3
Ectoknight $250
Pose 4
Health 4
Type of Foot
1
2
3
4
Claws
Stubbtoe $25
Sprint 2
Dance 1
Speed 2
Scareclaw $75
Sprint 3
Dance 2
Speed 3
The Clawman $150
Sprint 4
Dance 3
Speed 4
Dirtchargers $250
Sprint 5
Dance 4
Speed 5
Mammal/Rodent Paws
Twopaw $25
Sprint 1
Dance 2
Speed 2
Threepaw $75
Sprint 2
Dance 3
Speed 3
Fourpaw $150
Sprint 3
Dance 4
Speed 4
Morepaw $250
Sprint 4
Dance 5
Speed 5
Bird/Lizard
Webwaddle $25
Jump 1
Charge 1
Speed 2
Backscritcher $75
Jump 2
Charge 2
Speed 3
Elevatorclaws $150
Jump 3
Charge 3
Speed 4
Raptorclaws $250
Jump 4
Charge 4
Speed 5
Primate
Palmwalker $25
Sneak 2
Dance 2
Speed 1
Underhanded $75
Sneak 3
Dance 3
Speed 2
Hombrenid $150
Sneak 4
Dance 4
Speed 3
Sassyquatch $250
Sneak 5
Dance 5
Speed 4
Hooves/Stompers
Clippity $25
Sprint 1
Charge 2
Speed 2
Cloppity $75
Sprint 2
Charge 3
Speed 3
Hoppity $150
Sprint 3
Charge 4
Speed 4
Hippoty $250
Sprint 4
Charge 5
Speed 5
Insect/Crustacean
Stumplestilt $25
Jump 1
Dance 1
Speed 1
Health 1
Buckfoot $75
Jump 2
Dance 2
Speed 2
Health 2
Slasherknight $150
Jump 3
Dance 3
Speed 3
Health 3
Scarmaker $250
Jump 4
Dance 4
Speed 4
Health 4
Cephalopod/Plant
Suctoped $25
Sneak 1
Charge 1
Dance 1
Speed 1
Sugerefoot $75
Sneak 2
Charge 1
Dance 1
Speed 2
Suctopod $150
Sneak 3
Charge 2
Dance 2
Speed 3
Suctofleur $250
Sneak 4
Charge 3
Dance 3
Speed 4
Amphibian
The Geckonator $25
Jump 2
Dance 1
Speed 1
The Geckoning $75
Jump 3
Dance 2
Speed 2
The Froggening $150
Jump 4
Dance 3
Speed 3
The Toadening $250
Jump 5
Dance 4
Speed 4
Arms & Legs: The only real difference between the arms and legs are how they look. Each arm originally comes with a basic hand, while each leg comes with a basic foot. Neither adds any attributes, and can be replaced as the game goes on. Each arm and leg segment has a complexity of 1.5 and a cost of 15 DNA. Thus any arm or leg with 2 segments has a complexity of 3 and DNA cost of 30; a limb with 3 segments will have a complexity of 4.5 and DNA cost of 45. The default graspers and feet have 0 complexity and cost 20. Note that you can only get the Exoskeletal Limbs by updating Spore. You may also add separate limbs to another to make it longer. Grab a limb and hold Ctrl and move the arm over the limb you want to add it to.
Type of Limb
1
2
3
4
Arms 1
Slackwrist $50
Python $50
Doubelbow $65
Wizardsleeve $65
Arms 2
Meekling $50
Flextor $50
Burly $50
Bulgo $65
Arms 3
Deltroid $50
Cutty $50
Skrappy $65
Gunnshow $65
Legs 1
Brawnysaurus $50
+1 speed
Cankle $65
+1 speed
Broncosaurus $65
+1 speed
Steatopiggy $40
+1 speed
Legs 2
Phatella $50
+1 speed
Stompbottom $65
+1 speed
Callypigeon $65
+1 speed
Yumstick $40
+1 speed
Legs 3
Thundercalf $50
+1 speed
Ostrichopath $65
+1 speed
Thighstrider $65
+1 speed
Qopazcoatl $40
+1 speed
ExoArms 1
Arm Plated $65
Spiker $50
Lesser Tubercle $50
Delta Point $50
ExoArms 2
Sinew Slug $50
Brawned $50
Tendonikes $65
Fleshed $50
ExoArms 3
Deltoid Tuberosity $50
Humorous Humerus $50
Khourtier $50
Holiarm $50
You can cover your creation with ears, antennae, eyeballs, pig snouts, and so on. The items that are placed in pairs are automatically arranged symmetrically. In fact, you can make a single pig nose split in half so that one nostril is on one side of your creature and the other nostril is on the other side. Just as with all the other items, you can adjust the angle and size of every eye, ear, nose, and mouth you place.
Type of Eye/Sense
1
2
3
4
Misc/Primate Eyes
Optic Orb $10
Ocubulge $10
Eyebissed $10
Scrutineye $10
Arthropod Eyes
LarvEye $10
Seeodesic $10
Eyelien $10
Stemma-addict $10
Cartoon Eyes
Empteyes $10
Occulus $10
Wide Eyed $10
Neo-teeny $10
Mammalian Eyes
Coygamine $10
Grumpeye $10
Furtive $10
Evil Eye $10
Reptilian Eyes
Felizard $10
Wizened $10
Saurian $10
Boneye $10
Eye Stalks
Stalkgazer $10
Mean Stalk $10
Periscoptic $10
Peduncledunk $10
Bot Parts
Binoculeye $10
Blinkojo $10
The first column is available in the free creature creator demo.

Type of Weapon
1
2
3
4
Antlers
Pediculous $25
Charge 2
Fawninatrix $75
Charge 3
Ultramegadeer $150
Charge 4
Elkegent $250
Charge 5
Horns
Keratinhorn $25
Charge 1
Health 1
Narwhalicorn $75
Charge 2
Health 2
Cornutopia $150
Charge 3
Health 3
Rammer $250
Charge 4
Health 4
Bulbs
Gobstalker $25
Spit 1
Health 1
Pleghmthrower $75
Spit 2
Health 2
Problem-Solvent $150
Spit 3
Health 3
Spraypalm $250
Spit 4
Health 4
Cones/Tubes
Hockitlaucher $25
Spit 2
Spraybuchet $75
Spit 3
Ziggurhat $150
Spit 4
Porcupain $250
Spit 5
Clubs
Maceball $25
Strike 1
Health 1
Stessball $75
Strike 2
Health 2
The Tauntlet $150
Strike 3
Health 3
SlimSlam Kablam $250
Strike 4
Health 4
Hooks
Scimitard $25
Strike 2
Toxic Telson $75
Strike 3
Reapermantis $150
Strike 4
Spurprise! $250
Strike 5
What mouths you can use is determined by your consequence trait from the cell stage.
Note: Only Omnivores can use the Bot mouths.
Type of Mouth
1
2
3
4
Lizard
D'Orca $25
Carnivore
Bite 2
Sing 1
Terrorpin $75
Carnivore
Bite 3
Sing 1
CrocKisser $150
Carnivore
Bite 4
Sing 2
Shortensnout $250
Carnivore
Bite 5
Sing 3
Insect/Crustacean
Gobsterclaw $25
Carnivore
Bite 2
Sing 1
Handibles $75
Carnivore
Bite 3
Sing 1
Handtennae $150
Carnivore
Bite 4
Health 2
Sing 1
Pincernaut $250
Carnivore
Bite 5
Health 3
Sing 1
Carnivorous Fish
Manglerfish $25
Carnivore
Bite 2
Sing 1
Slagjawed $75
Carnivore
Bite 3
Charge 1
Sing 1
Barracutie $150
Carnivore
Bite 4
Charge 2
Sing 1
Carcharebear $250
Carnivore
Bite 5
Charge 3
Sing 1
Terror bird/Parrot
Toucan't $25
Omnivore
Bite 1
Sing 1
Buzzbeak $75
Omnivore
Bite 1
Health 1
Sing 2
Buzzmuzzle $150
Omnivore
Bite 2
Health 2
Sing 3
Skexybeast $250
Omnivore
Bite 3
Health 3
Sing 4
Primates
Sauroclod $25
Omnivore
Bite 1
Sing 1
Grinnace $75
Omnivore
Bite 2
Sing 2
Vermillips $150
Omnivore
Bite 3
Sing 3
S'gnarly $250
Omnivore
Bite 4
Sing 4
Amphibious
Simperton $25
Omnivore
Bite 1
Sing 2
Rostrum $75
Omnivore
Bite 1
Sing 3
Worrybeak $150
Omnivore
Bite 1
Sing 4
Amphibitude $250
Omnivore
Bite 1
Sing 5
Radial/Plant
Leeyotch $25
Omnivore
Bite 2
Sing 1
Gnathognasher $75
Omnivore
Bite 3
Sing 1
Saginaughty $150
Omnivore
Bite 4
Sing 1
Dietrap $250
Omnivore
Bite 5
Sing 1
Mammals
Mollratt $25
Herbivore
Bite 1
Sing 2
Laardvark $75
Herbivore
Bite 1
Sing 3
Ruminanteater $150
Herbivore
Bite 2
Sing 4
Whalephant $250
Herbivore
Bite 3
Sing 5
Swine
Swillson $25
Herbivore
Bite 1
Sing 2
Ungulot $75
Herbivore
Bite 1
Sing 3
1
Soundersnout $150
Herbivore
Bite 1
Sing 4
Charge 2
Haunchface $250
Herbivore
Bite 1
Sing 5
Charge 3
Song birds
Cantovis $25
Herbivore
Bite 1
Sing 2
Splatypus $75
Herbivore
Bite 1
Sing 3
Health 1
Snapgator $150
Herbivore
Bite 1
Sing 4
Health 2
Grubblemaw $250
Herbivore
Bite 1
Sing 5
Health 3
Bot Parts
Clamps $75
Omnivore
Bite 2

Cantop $75
Omnivore
Bite 2

Gaining DNA
Edit
Creatures can deal with other species by befriending them or exterminating them. Some species are naturally hostile (red angry face) and cannot be befriended unless you use Siren Song. Every time a creature is befriended or killed your creature gains DNA. Once you have befriended 3 of the species or rendered them extinct, you will gain extra DNA. If you hunted those creatures they will become extinct and no longer appear in your game, if you befriended the creatures then if your brain is large enough you may recruit them for your pack. Either way you may rest at the creatures nest to restore health.
Another lesser known way to gain DNA is by eating the eggs of other creatures. This also takes care of creatures hunger but almost always results in angering the nest you ate the egg from. For carnivores who do not want to kill all the surrounding creatures they can eat eggs and run, which will give them DNA and keep any one species from becoming extinct. This makes it easy for carnivores to make friends while still maintaining their diet and only making one (or eating from an already hostile group) nest of enemies. Even herbivores can eat eggs and gain this benefit. Also by using this method you can effectively neither befriend or extinct any species and gain all your needed DNA through eggs by playing an egg eating race. High sneak and sprint however is useful for this method as creatures often attack you when they notice you eating their eggs.
At some stage the player's species will migrate to another part of the continent; reuniting with them is another way to gain DNA points.
After gaining a certain amount of DNA your creature's brain will increase in size. After the first increase in size you can use social skills to persuade other creatures to join your pack. The maximum amount of creatures you can have in your pack increases by 1 each time your brain increases, near the end of the stage you can have 4 creatures in your pack (including yourself). After a creature's brain becomes big enough and they become sapient, the player can enter the Tribal Stage.
Also, as your creature's brain gets bigger, their maximum health level will increase, allowing them to survive fights against tougher creatures. They also appear to grow larger.
Befriending
Edit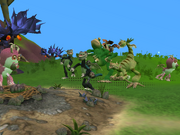 To start with, you cannot befriend a species with a red face relationship unless you use Siren Song, the consequence ability of Herbivores, on them. It may not change the face, but until they stop dancing to the music, you can socialize them to yellow face. Your relationship must be orange face or higher if you do not have Siren Song. This can be accomplished by hunting many creatures of the species very quickly, changing the red face to shocked face (Mouse over the creature to see your relationship with the species). To begin, enter social stance, select the creature you want to befriend, and then click again on it or use a social ability. A semicircle divided by bars will appear, with the relationship of the species above it. The creature will then sing, dance, charm, or pose, depending on their level of that ability, and fill up section(s) of the semicircle in purple on the right side. You must then copy them (or use a different ability if it is significantly higher) to fill the semicircle on the left side in purple. Once the two bars meet at the center or on the right side, that creature is befriended. From now on, that creature will have a yellow star around the relationship face. Befriending alphas will give you a new part, but that is harder. When you have befriended 1, the relationship face will be yellow for neutral, 2 is blue for friendly, and 3 is green for allied. Impressing a befriended creature will add it to your pack, if you have empty slots. The Omnivore consequence ability Summon Flock can help when befriending. Pack members also help, depending on what level socialization parts they possess. Rogues will give you 100DNA if you succeed in befriending them and it is recommended in some cases that you get one into your posse as they tend to have very high socialization abilities. Epic creatures can only be befriended if you befriend the normal version of the Epic creature. Lastly,if you keep your pack until you advance to tribal stage (right after creature stage),they will become your pets that will give you food in tribal stage.
The following table lists the consequence abilities given by the different types of victory in the Creature Stage.
Cerberus - Evolve a creature with three heads.
General Custer - Lead 30 posse members to their deaths.
Slugger - Finish Creature Stage without ever evolving legs.
Sometimes in Creature Stage, one of several events may occur. When this happens, a more intense version of the battle music will play, and nearby creatures will flee in terror.
Epic creature - An Epic creature will target the area that the player is in, and wreak havoc. It can be your own creature and is strongly recommended to run away (unless you are attempting to kill one), as Epic creatures can kill the player's creature in one blow. (the only time it isn't lethal is if you have over 100 health in which case you might luck out and lose only 100.) However, killing an epic will earn you the Epic Killer achievement. Epics are placed randomly around the world, and are usually guarding many large bone piles, which hold valuable parts. There is a very rare glitch that may happen where there are many more epics than usual- around every corner you turn. The reason for this is unknown.
Meteor Shower - There will be a flash on the screen, and a large meteor will fall to the ground, and when it crashes it will break into pieces, which rain down on the planet. Other creatures will run around in terror. This appears to have no visible effect on the planet, but if a meteorite hits your creature, you will be stunned for a while. BUT, if the large meteor hits your creature, nothing happens. If you want to see for yourself, wait for the meteor shower then pause the game and find it in the sky. Make sure you have fast feet and use sprint, no matter how far away it looks. You will know a meteor shower is starting if creatures suddenly jump and start running around in fear.
UFO - A UFO will appear in the sky. It may be one of your UFOs, a Maxis UFO, UFOs made by other players, or even a Grox spaceship. Nevertheless, it will fly around, and may abduct other creatures or plants. Be careful, as it may try to abduct one of your pack members. Other creatures will run in panic, which may interrupt you if you are socializing. The creature you are controlling can be abducted, but only get pulled up, not actually get inside the ship. Click on the spaceship to add it to the sporepedia.
Crashes - A crashed ship will sometimes be seen embedded in the ground. If it is a Grox ship, there will be a poisonous looking purple cloud, though this has no effect on the player. investigate the crash for a strong part (which could be the remains of the captain, passengers, etc.).
Sea Monster - If your creature swims too far from the shore the creature gets eaten by a sea monster. The sea monster is always the same for every planet.
Sleeping Creatures - Sometimes certain creatures sleep, and if woken, angrily snap at the players creature.
Migration - Sometimes, when the player befriends/destroys most of the species around the nest and the player dies/evolves, a cut scene will play where some of your nest mates will start walking away, and the last creature to go will wave at another creature, which will respond by doing a 'wait' action, then look at a egg (Or more if you have a pack) which will hatch into the player, and as soon as the player enters adulthood, they must follow a "migration path". Once at the new nest, the creatures will stomp on it, making a larger nest, which will be the new birthplace and home for your creauture.
Cocoons - Sometimes your creature may come across a nest filled with strange grayish cocoons. They have three flaps near the top and they emit a leathery sound as well has appear to drip liquid. It has been observed that the creatures inside, take their place, jump up in the air, and the cocoon forms around them. After a while, the cocoons will open, revealing the creatures inside them.
Rain - rare graphical effect in the Creature and Tribal Stages. You can see rain, lightning and hear thunderclaps when it is raining. Sunbeams may travel through the clouds. Apart from this, it has no other effect. Creatures sometimes run to shelter underneath trees. In Spore Galactic Adventures, it is possible to add rain as an effect to planets in the Adventure creator from the Effects menu. There are two kinds of rain: rain and rainclouds. Regular rain adds constantly falling rain to the adventure, whereas raincloud will add clouds with rain falling from them. Many players prefer the latter as regular rain can fall inside buildings, and appears to 'move' with the camera, making it look rather artificial.
Rain could be possibly seen with Planet Quality at High, and with the styleFilter -next gen, but its unconfirmed if it works except the pic shown here
Rogue Creature - Later on in the stage it is more than likely that you will come across a Rogue creature, these creatures are far harder to kill or befriend as they have 250 health and have high stats (at least 7 of the stats are level 4 or 5), fortunately, they are solitary creatures and reward the player with a sizable 100 DNA for killing or befriending them, so taking them on in packs is recommended, and make useful allies toward killing epics, due to their high stats and health. They do not give parts for killing or befriending them.
Decorations
Edit
Natural Landmarks - You can find various interesting landforms and Hyper Sized bones or giant footprints. It is possible to find volcanoes and large crystal landmarks too. Each homeworld may have specific landforms, which gives the planet a distinction, and give things for

the players to explore.
Habitats - There is a wide range of habitats in Spore with different flora and fauna, forests and only a few nests while shorelines may have many.
Crop Circles - Sometimes there are crop circles near the third home nest.
Other Things
Edit
Cocoons - Strange cocoons creatures enter that hatch into more advanced creatures.
Drinking creatures - sometimes a creature will go to a body of water and touch it with their mouths as if drinking.
Rotting food - If meat or fruit has been lying around too long, they become rotten, attracting fly-like creatures, and emitting odor.
Non-nesting sites - Some creatures don't appear to have nests, some roam solitary, while others run about in packs.
Strategy
Edit
Hard Difficulty
Edit
Try to use up all the DNA points in the Early Creature creator because whatever DNA you don't use in the early creator is lost, this way you can take off all of the extra parts you got and have extra DNA points to use in the creature editor.
Removing joints from limbs so that they become double-jointed saves a lot of DNA. You can do this by holding Ctrl and clicking the joint closest to the foot.
5 DNA points can be saved by keeping an eye from the Cell stage and not trading in for an eye from this stage. All eyes have equal functionality.
When in the editor, try to remember when you can't afford a more advanced part to replace another, that you'll gain DNA points by selling the older part.
When your creature is hungry and you can't find food, return to the nest and mate. Your offspring's hunger bar will be completely full.
When meteors fall from the sky, don't run around in circles -- watch for the shadows and avoid them.
Swimming too far out into the ocean results in instant death, courtesy of the sea monster. Look for when the water becomes darker on the minimap to avoid such a fate.
If your creature has hands, they can pick food from tall trees, or pick up items and throw them. Sticks do nothing but annoy the creature you throw them at (even your own species), while shells and rocks will stun them for a little while. You can save some throwing items by placing them at your nest. If the tree happens to be too tall, then pick up a stick and throw it at the fruit.
The further into the Creature Stage you go, the more you'll notice that when trying to socialize with another creature, they'll call their other members to socialize with them. An easy way to stop this is to just walk near the creature you want to socialize. Notice how they walk away if you get too close. Use this to "push" them away from their nest to socialize with them more easily.
A good way to enter a fight is to use Spit at your target, then wait for them to come within reasonable distance, then hit them with a Charge and follow up with a Strike and a Bite. You're less likely to miss the Charge because your target is coming straight at you. If the animal has wings, the charge can miss if they jump and fly. Spit rarely misses, because sometimes it will go in a zigzag pattern instead of a normal pattern. You can also lure an enemy to your nest using Spit, and your species will kill them for you.

This is a useful strategy for killing epics, which give a large amount of food and DNA points.

If your target is running away, use your spit ability to provoke them to attack. Also, spitting at a creature that is trying to fly away will temporarily disable its ability to fly(for about 5-10 seconds or so).

When using spit, remember that it helps to be on the same terrain level as your target.

When fleeing from a battle, switch to "Social" stance, pause the game, and double click on your members. When you un-pause the game, your creature will beckon its pack members to follow it, and they will run away from the fight.
Not as powerful as Rogues but more powerful than the average creature are Alphas. They have 25% extra health compared to normal creature and may attack harder as well. It takes one more turn to socialize with an Alpha than with a normal creatures. Alphas of your own species can only be found at new nests after migration or other nests that aren't your home.
Socialize and hunt in turns of one generation. Put lots of socializing parts on your creature and convince a few powerful allies to follow you. Rogue creatures would be ideal for this, but getting them into your pack is fairly difficult. Once they are in your pack they can be used for some serious warfare. Now you need to get ready for hunting by evolving from a singer into a killer. Once again optimize your creature for killing. Your pack will still follow you after you hatch.With enough DNA, you can evolve a creature level 5 in both killer and social.
When you reach the Tribal Stage, your creatures will sometimes use their natural abilities to fight, so attach the strongest fighting abilities you can when you're about to evolve, but don't get rid of social abilities, they can help a lot in allying rival tribes. Furthermore, in Spore Galactic Adventures all natural abilities are used, so a balance might be useful.
Any animals of another species a player has in his/her Pack at the time they evolve to the Tribal Stage will automatically start out as domesticated animals. This might save a small amount of time at the start as the player doesn't need to domesticate animals if he takes them from the Creature Stage.
A good way to get extra DNA points (usually 25) and boost your level is to eat eggs from the nests of other creatures. The funny thing is you can eat the eggs of your allies and they don't seem to mind. However, you don't always get a reward from these tantalizing treats.
Lots of animals will hate your species for no reason. These animals may not be socialized with so its arguably easier to play as a carnivore or a combat focused omnivore than a herbivore
When your species evolves into tribe, it will not matter much what mouth you have, fruits are abundant and easy to gather, meat needs to be hunted, eggs (from pets) are for both and if a herbivore fishes at a fishing spot they will collect seaweed instead.
When a creature comes charging at you, spit at it and it will slow down, and the charge will not hurt you.
To kill a creature stronger than you, lure it close to your home nest, spit at it, sprint to your nest and the other members of your species will help you quickly kill it.
Near the end of the stage, remove the eyes outright. If you can have two or three pack members, your range of vision isn't actually decreased by that much, and the extra DNA can mean the difference between low-level parts and high-level parts in a pinch. In fact, just before you evolve to Tribe stage, about the only noticeable difference is the lack of color.
Remember that by using Siren Song if you are an herbivore, you can neutralize creatures that feel negatively toward you, and make it much easier to ally rogues, however you will need to use it again to get them in your pack. Siren Song also lets you befriend hostile creatures. Test it if you do not believe this.
The Siren song doesn't just help with socialization, but if your creature is about to be killed, you can use siren song which will stop your enemies from killing you, giving you enough time to flee from them OR ally them.
Alpha creatures will give you new parts and will have a star depending on the level of the creature and will give a part depending on the star number (a level 3 star gives a level 3 part etc) the numbers go from 1 to 5.
If you start from the Cell stage don't bother with what you will eat. At the very end just put a Carnivore and Herbivore Mouth on whilst in the Early Creature Creator, don't remove them and you will become an Omnivore even if you were previously an Herbivore or Carnivore (the trait card remains, though).
Sprint, Sneak, Jump, and Glide are good for getting out of tough situations.
Advance through socializing. Pass by creatures with the angry red face, and look for those you can have a better relationship with. ALWAYS look for Rogues, they are invaluable with high-end socializing. Plus, if an angry creature attacks the Rogue, he can take far more hits than any other creature save an Epic.
Try to socialise with creatures who have many weapon parts. If the creature has too many weapon parts, there may be little room for social parts making the creature easy to ally with. While you won't gain much DNA, it will make an easier social game or it will add more powerful creatures to your pack.
If you are a herbivore with a lot of DNA but no new body parts, buy weapons or health parts; you never know if a moving pack of predators might find you and attack.
Find a nest near the ocean(but not on the shore) before you advance into the Tribal Stage. This is extremely useful later in Civ Stage and also useful in Tribal Stage.
The Creature Stage icon resembles a Willosaur.
There seems to be no concept of separate genders in Creature Stage. All creatures seem to be able to lay eggs. However, in the Space Stage, some members of your species will have male voices, while others have female.
There are Spice Geysers here, but you can only use them to give you a large boost into the air.
Also, Volcanos are in random places. If you can climb to the top, they give you a boost in the air, sometimes even out of the atmosphere. If done without wings, your creature will be stuck in the updraft and slowly starve.
With each brain increase, it can be compared to periods in Earth's history. The start of the level can be compared the Paleozoic era, the first increase the Mesozoic era (with epic creatures, which normally appear at this stage, representing dinosaurs, and if you're large you could represent crocodilians or early birds), the second increase the Cenozoic era, and the final increase within the last few million years.
You can make yourself an Omnivore while sill have the trait of a Herbivore or Carnivore; Give yourself a Proboscis in the Early Creature Creator and put it on somewhere. This helps Carnivores by not having to kill to eat.A suggestion would be that if you reduce Proboscis size and hide it under a mouth part,this can be used if you want a detailed creature without interfering parts.
When your evolution bar is full, you can still get DNA points for allying or killing a species, but the amount you receive will be substantially reduced.
You may see gear-like statues around your planet, sometimes small, sometimes colossal. You may also see stones with drawings that look like cars. These may be hints that there was a sentient race before your creature.
You might see gigantic skeletons of creatures or huge foot tracks. This may be because there was a hyper-epic on your planet long before your creature arrived.
When you see large, fish-like skeletons lying about, that is a hint that an epic is nearby. However, these skeletons contain strong creature parts, so try to dig a few up behind it's back when it isn't looking. Sneak is useful in this situation.

When you collect these large skeletons, you will also unlock any lesser parts with it.

You might find creatures that live on hilltops and are hard to get to. Try coming back with high jump and fly skills.
Rogue creatures are almost always strong when they are normal. The game picks any creature that meets the qualifications to be a rogue- high ranking abilities in socialisation and combat.
You might see a crashed alien ship on your planet. This is very rare, but strong parts are usually around the crash site.
The size of a creature doesn't matter if they were made huge in the creator. The size of the creatures you see are based on how evolved they are.
When you evolve into tribe stage, the cinematic and music that plays are both a reference to the movie 2001: A Space Odyssey.
If your creature eats another creature's egg, it will give you 25 DNA points and a considerable leap in the Evolution Bar. Be careful though- The creature may get mad at you if you eat their eggs. A good way to eat a nest's eggs and not get in trouble is if you befriend two creatures from the nest. If done correctly, you can eat the eggs, and they wont get mad at you. But be careful- if you ally with a nest, you won't be able to eat their eggs at all.
A Baby Creature is an easy kill, though it will make the parent creature attack you, and along with the whole nest.
Each time you get closer to the end of Creature Stage different animals become stronger and have more to kill.
Epics seem to disappear after the meteor shower (a reference to the KT event). Occasionally new epics will appear, or maybe not...
Unlike normal creatures, Epics cannot see you when you have sneak engaged, no matter how close!
Killing either an egg or a Baby Creature will instantly put your relations at hatred if the creature is neutral or lower. Be careful!
Albeit incredibly rare, it is possible for the player to come across a crashed Grox spaceship and hear a strange beeping sound. After a while, the ship will explode, killing the player if nearby.
There was a large argument over letting the player enter a sexual mating game in which they would have to seduce and impregnate another member of their species. This was also carried onto a smaller debate on allowing players to obtain new creature parts and skills though cross breeding with other species.
Almost always, at some point in the stage, you will find a UFO lingering around you. If you are socializing, it will interrupt the socializing and scare the creatures. But this comes in handy when in combat: animals are too scared to fight back, and you can take out a lot of otherwise too-strong animals of a nest.
Sometimes if you evolve a creature without legs it will seem much bigger than the other creatures in your nest.
See Also
Edit
External Links
Edit
2001 Ape Scene This also has a monolith in it, which in the space stage you can shoot down to other planets to increase the intelligence of it's tribes. Later on, the ape learns to use the bone as a weapon, as does your creature with a stick when you evolve to the Tribal Stage.
My Spore Guides A collections of guides and videos for different stages of Spore
Ad blocker interference detected!
Wikia is a free-to-use site that makes money from advertising. We have a modified experience for viewers using ad blockers

Wikia is not accessible if you've made further modifications. Remove the custom ad blocker rule(s) and the page will load as expected.