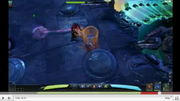 Darkspore Agents are enemies in Darkspore. They are almost completely black and are very dangerous. They will spawn onto the battlefield near to heroes, and trap them in an energy field. The trapped hero can only be freed if another hero is able to defeat the Darkspore Agent. They are only present in co-op gameplay. In the demonstration video at EA's showcase, a Darkspore Agent is seen trapping Vex, who is then freed by Arakna, who kills the Darkspore Agent using one of her attacks.
There are also Agents of other classes. For example, there is a Cyber Agent in a screenshot of Darkspore.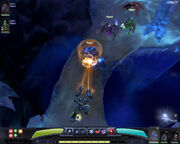 Ad blocker interference detected!
Wikia is a free-to-use site that makes money from advertising. We have a modified experience for viewers using ad blockers

Wikia is not accessible if you've made further modifications. Remove the custom ad blocker rule(s) and the page will load as expected.