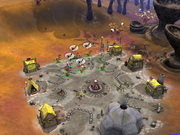 The Didgeridoo is a instrument in the Tribal stage that is used when attempting to ally with a tribe that is not hostile towards your tribe. Tribes will demand different sounds be played in order to impress them. The Didgeridoo is the third Tribal Stage social action, and can be activated using hotkey 3. If your species is a carnivore, the didgeridoo will be their default instrument. For best results in allying, you should have at least two creatures playing each instrument. Best results can also be achieved by having Even numbers of players of each instrument.
The didgeridoo when equipped on one of the players tribe members appears as a long painted tube which is slightly wider at one end. It makes a sound like a rasping low howl when played during socialization.
See Also
Edit
Ad blocker interference detected!
Wikia is a free-to-use site that makes money from advertising. We have a modified experience for viewers using ad blockers

Wikia is not accessible if you've made further modifications. Remove the custom ad blocker rule(s) and the page will load as expected.