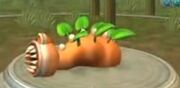 The Groob were first seen during Siggraph 2007, when the demonstrator loaded this legless, leaf-covered cyclopean omnivore to show off the creature editor. It appeared in the final game as well.
In the video, legs, arms, and small aesthetics were added, as well as its colors changed, but this did not affect the actual species, and therefore the Groob is still considered a legless species, especially considering that the demonstrator did not create the Groob. With so many leaves growing off their back, they may in fact be a partially autotrophic species.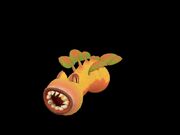 Groob reappears in the final game by the same name
A two eyed version of Groob, called Floroob, also appears in the final game.
Ad blocker interference detected!
Wikia is a free-to-use site that makes money from advertising. We have a modified experience for viewers using ad blockers

Wikia is not accessible if you've made further modifications. Remove the custom ad blocker rule(s) and the page will load as expected.