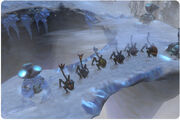 The Raktha are from one of Maxis's Template Challenges. They are Plasma characters from Cryos, and are likely Lieutenant class enemies.
Description
Edit
Rakthae are the children of two epochs of mutation on Cryos: the Crogenitor era, and the Darkspore era. Originally, they survived Cryos's descent into an ice age, the Rakthae evolved into double-extremophiles. They flourished when the Crogenitors ripped Cryos with rivers and oceans of plasma, gaining the ability to metabolize plasma itself (especially advantageous with the planet's dwindling food supply).
But when the Darkspore invaded Cryos, they bent the beautiful creatures to their own will. Protected by halos of flame, the Rakthae inflict flaming devastation on any who attack them bodily, and aim fiery vengeance at any target. Whether defensive or offensive, Raktha flames are difficult to extinguish and can quickly turn terrible wounds into terrifying death.
Winning Entries
Edit
Part 1 of this challenge was to create a template creature based on the bio. Templates were judged on creativity, adherence to the bio, simplicity, and how well they animate.
Winner: Raktha Template By Conswella
Part 2 was to use the winning template, and submit a creation that shows how the person thinks the Raktha should look. They were allowed to decorate and paint the creature, but not allowed to alter the base template in any way. Entries were be judged on appearance.
1. Raktha By 0-silentium-0
2. Raktha By phoenixtaloh
3. Raktha By 0-silentium-0
Honorable Mentions
Edit
1. Spiny Raktha By Orsapolska
2. Raktha By WforWumbo
3. Raktha By WforWumbo
Abilities
Edit
The Raktha have two known abilities:
They are protected by halos of flame, that inflict damage on nearby enemies.
They launch some sort of Plasma fire attack.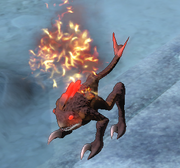 The "Raktha Template Challenge" was the only two part challenge that was created by Maxis.
Ad blocker interference detected!
Wikia is a free-to-use site that makes money from advertising. We have a modified experience for viewers using ad blockers

Wikia is not accessible if you've made further modifications. Remove the custom ad blocker rule(s) and the page will load as expected.