Sea Monster is a Featured Article

---

"Sea Monster" has been featured, meaning it was deemed an article of interest by the Community.
The Sea Monster is an aquatic, legless and giant hazard creature that always lives on the player's homeworld. It has appeared in the Creature Stage and Tribal Stage of Spore.
Stage appearances
Edit
Creature Stage
Edit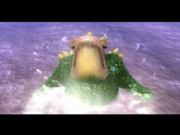 The Sea Monster appears on the water's deepest territories (the dark spots shown in map). If the player's creature swims further from the surface, a cut scene will play showing the Sea Monster devouring the player's creature. The Sea Monster can't be dodged by swimming away, even flying in highest heights. Sea Monster is incapable of killing pack members or any Spore creatures besides the player's creature.
Tribal Stage
Edit
When the player uses the Flying Fish consequence ability, the chieftain will start playing a cornet, and the Sea Monster will appear. It will then jump, sending many fish onto the shores to the player's tribe. Then the Sea Monster and the chieftain will wave happily to each other. The Sea Monster will then go back into the sea.