Sharps is an alien from Darkspore. He was only seen in a sketched concept at Comic-con 2010. The Drawing calls him "Sharps" and enlists him as a "Frost Mage". This may mean that he belongs to a sub-class of "Frost Heroes", or is possibly a non-playable character. It may also mean that a "Frost" class was an early beta idea that was most likely removed from the game. If so, then Sharps will not even make an appearance in the game. However, if an expansion pack is made for Darkspore in the future, a Frost race or type could possibly be included. He was probably a Tempest, as he is referred to as a Mage.
An updated concept art for Sharps can be found here ([[1]]) while maintaining it's characteristic four eyes, its facial hair gives him a more human appearance, and it's possible that it was useds base for the Crogenitors design (as seen in the official site background), but Sharps himself might not be featured in the game.
On a thread on the Darkspore forums, a developer posted a picture of Darkspore's earliest concepts. Here, many childish kid-friendly-looking creatures were seen, one of them closely resembling Sharps. This is evidence that Darkspore's style was originally going to be highly similar to Spore's, but this was scrapped for a more mature style.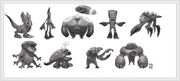 Ad blocker interference detected!
Wikia is a free-to-use site that makes money from advertising. We have a modified experience for viewers using ad blockers

Wikia is not accessible if you've made further modifications. Remove the custom ad blocker rule(s) and the page will load as expected.