Home
Talk

368
1,384pages on
this wiki

Users have recently been experiencing difficulties accessing the IRC Channel. If you are experiencing such difficulties, please login to the IRC on the SporeWiki IRC channel article, linked
here
.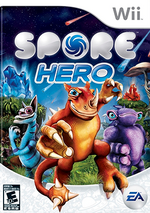 Spore Hero is a game for the Nintendo Wii. The game was released on October 6th 2009. It shares some of its characteristics with the creature stage, but is not easily comparable with the original game. Spore Hero received mostly average reviews, scoring a 6.1 on IGN, a 6.5 Critic Score on GameSpot and 61 on Metacritic. It was generally more well-received by the public, scoring an 8.1 User Score on GameSpot.
(More...)


Create an article about a Spore subject
Create an article about a something you created in Spore
Create a fictional article about a Spore subject
You can start new fiction here. If you want to join it to the SporeWiki Fiction Universe, make sure you follow the guidelines set by the community.

Feel free to join the Fiction Universe or log on to IRC for a chat!
Featured Fiction
Each month, the community votes for the best user-created pages on the wiki. Monthly, please check out the official featured article blog to provide your opinion. Will you be featured?

We have an IRC channel. Find out about IRC and how to join here. Note that we have rules for the IRC channel, please abide by them.
Rules, terms and conditions
Help with editing

"A wiki (IPA: [ˈwiː.kiː] <weekee> or [ˈwɪ.kiː] <wickey> (according to Ward Cunningham) is a type of website that allows users to add and edit content and is especially suited for constructive collaborative authoring." -- Wikipedia
If you want to know how to edit, read the article about editing.

Remember to support the related and sibling wiki's!