Talk:Glitches
1,320pages on
this wiki
Cell parts overpowered/Skeletons not working
Edit
I got this glitch when i once reinstalled the game (tried to get rid of it by reinstalling again, but to no avail - this is permanent glitch).
((Glitch 1))
When i got to creature stage, where i for the first time put legs on, other parts like the Carnivore mouth got [5 Bite] [0 Sing] which is pretty annoying. All other parts where also overpowered with different stuff than they should have. (The creature stage parts work fine.)
((Glitch 2))
Also permanent glitch...
At creature stage, there's Small, Medium, High, and Huge skeletons where you can dig them up for parts, right?
Now the Medium one can be digged, but won't give parts. None of the High or Huge does either, onle the Small skeletons gives bad parts.
---
I would be glad if anyone could help me solve those...
Yes, i tried Reinstalling everything about Spore to no avail.

---
Infinite Number of allies in your posse pack
Edit
At one time in the Creature stage, I had a glitch that would allow me to have more than 3 allies, infact, It allowed me to have an infinite amount of allies in my pack but only of the same species. The First time I tried out, I had 4 Posse members. Later, it happened again and I added in a whole family of Maxis' Amp turtles into my pack. They even help you socialise others without having to go around and get parts from other creatures or finding them from fossils. Once you complete the Creature stage with that amount of allies, you will also have that amount of farm animals in your tribe stage. No kidding, It's true. BRRSpore 07:50, July 19, 2010 (UTC)
Hollow Busted Planet
Edit
Once, I blew up a planet with the Planet Buster. I don't remember what it had for oceans, but I think it was a T0 planet. When it exploded, the oceans, instead of being filled with water, ice, or lava, they were large empty holes in the terrain, through which I could see the busted planet fireball graphic (you know, the massive ball of magma you see when you blow up a planet, not the small one you see in the system after you've destroyed the planet) without any particle effects like the cloud of debris and fire spraying from the destroyed planet in the planetary destruction animation. Does this fit into any known glitches? BTW, this only happened once. 73h1337n00b 18:54, July 23, 2010 (UTC)
Planet explodes with Colony Incredipak
Edit
I wasn't recording at the time this happened, so don't call me a troll or anything. I once terraformed a planet to T3 and then dropped a colony on the planet. Instead of building a colony, it blew up the planet. What made it suck even harder was that the planet had purple spice. 73h1337n00b 15:49, August 8, 2010 (UTC)
Are you sure you didn't have the Planet Buster selected when you did that? No, seriously. It's possible for tools to be selected even when you into another panel (from the Weapons to the Colonization Tools panel, in this case). Then again, there are several differences in the process between dropping an Incred-Pak and dropping a Planet Buster, so you probably should have noticed it if you had.
As for the glitch you mentioned in the section above ("Hollow Busted Planet"), it sounds like the "No Water" glitch, and it might be what happens when a planet with that particular graphic glitch gets Busted. ~ Ghelæ - (talk) 16:01, August 8, 2010 (UTC)

I'm sure. I selected the Colony Incredi-Pak and put it on the planet. The planet exploded instead of building a colony. About the "Hollow Busted Planet" glitch, the planet (I think it had frozen oceans of ice) did not have the "No Water" glitch. Before I blew it up, it looked just fine. I'm not sure if any other empires noticed it as breaking Galactic Code, as I don't remember getting any messages from other systems. The last weapon I used on the T3 planet was not the Planet Buster, and if it were, it wouldn't have been selected because the planet it is used on is destroyed and leaving a planet deselects all weapons except the Auto Blaster, I think. 73h1337n00b 16:12, August 8, 2010 (UTC)
Leaving a planet does not always deselects all weapons. Many target weapons, including Colony Incredi-Pak should be deselected if not used or used before leaving planet. Otherwise glitches happen. I used to have a glitch with permanent blue circles on EVERY PLANET without any tool selected, but only in that one save file the bug occured. Later on, I've lost those save due different more catastrophic bug, caused by missing all sporepedia, which made me remove all saves but keep current stars.db and start new games in sole purpose of making war with all random empies who owned my old colonies. (Trading not possible, since Spore STILL thinks it is Player-owned, even though the saves are lost) --62.121.83.52 22:45, September 28, 2011 (UTC)
P.S. The Sporepedia creatures I ofcoruse recovered, but the game still did not attached them with old saves, so I had to remove them. --62.121.83.52 22:46, September 28, 2011 (UTC)
We should find out if anyone else has had these glitches. Once we find out more than one person has experienced these glitches I can add these two. 73h1337n00b 17:54, August 8, 2010 (UTC)

Did a quick Google search and it looks like I'm the only one who has had these two glitches. 73h1337n00b 19:33, October 2, 2010 (UTC)
important safety notice
Edit
You may also know me as spore slush(?)or mescaroncain(also ?) see i forgot my user names. now you know who I am I can tell you a serious glitch ,frankly, it destroys every creation apart from some. So I found out that the cause for all this is disc checking. DO NOT LET IT CHECK THE DISC. If you have had the glitch and its now gone please help me get my creatures back. Slop 09:12, August 21, 2010 (UTC)
What are the other details of this glitch - if you still have the problem? Sporeblade 23:35, November 11, 2010 (UTC)
Swimming Hologram
Edit
Back when Spore had worked for me, When I was in Hologram mode it would allow me to swim. I had a picture of this glitch, But my Laptop lost it's data due to Spore having a problem, most likely the Shutdown Glitch.Wolfin298 00:48, November 25, 2010 (UTC)
This glitch I can confirm to exist. I do not have any picture of it, because I modded my Spore to BLOCK Hologram scout (maximum amount of sporebucks per every single use pretty much discourages anyone).
Anyway... this glitch can occur if you go to the edge of a land while using hologram scout, then try to go to the water. If you are enough stubborn and find enough "weak spot" you might be able to enter water.
I'm pretty sure this glitch was mentioned in Sporewiki already somewhere.
Anyone can point is it still mentioned or no longer? --62.121.83.52 22:37, September 28, 2011 (UTC)
spore animals living in the water?????
Edit
Lately I have been experiencing a glitch in my spore game, when I go from cell stage to creature stage or just choose creature stage, my creatures nest is in the water. I cannot go on land, and I basically swim around until I die of starvation, then promptly am reborn and die again. this gets really annoying, and no matter how hard I look, I can't find an answer. what's more, when I click civilization stage, spore just decides that it won't play the game and stops responding. does anybody have an idea on how I could stop both of these problems from happening? much appreciated
First, sing you post with four tildes. Second, download a mod which eliminates the sea monster to fix the former glitch. I don't know about the second. Stuart98 has made many cool creations! Subscribe for pure creativity! 21:39, February 19, 2011 (UTC)
Cell cutscene glitch
Edit
Hello, I just wanted to put this glitch on so I could get your attention because I have been trying for WEEKS to get a usership, but the sign up page continually says they cannot give me an acccount at the time. If you could re-open the user signup 'booth', I would be eternally grateful.PS I have tried to make a user called 'Starwanderer'. 207.172.139.34 22:05, December 6, 2010 (UTC)
Angry New Colony Glitch
Edit
If one of your colonies is being attacked and your cities are being destroyed, if you let all the cities be destroyed, making the planet "unclaimed", then you place a Colony Incredi-Pack on the same planet and make first contact with it, it will say something like "Hey, were were you? You should have come and helped us!" Instead of "Colony on planet [name] name is all unpacked and set up!", since the game thinks that the colony you just placed is the same colony as the one you had to defend, since it is on the same planet. I have done this many times with one of my colonies. For some reason, the Grox really like to attack that one colony, and it is not even the one closest to the galactic core! user:Zacadoole1 50.10.158.142 15:02, May 5, 2011 (UTC)
I get this often, I'm not sure if its a real glitch though, even if the colony was destroyed, the game mechanics might have a set timer or something when to reset it to a new colony.

Wormulon Talk to me 16:27, May 5, 2011 (UTC)

Yes, I can confirm that, the game does have a timer obviously. After many time playing, I have noticed the above + that if you go out of planet for few minutes (5-10 minutes) and then go and place colony, it will no longer be angry.
Additionally, it's possible to place a colony while beeing chased by enemies on unclaimed planet and they will all run away. For me both behaviors are logical and makes sense. After all you let all cities to be destroyed, I would be angry on such captain. --62.121.83.52 22:31, September 28, 2011 (UTC)
Cant repair bad_data
Edit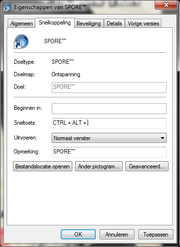 as i'm pretty new to spore wiki i dont know if it has to be a ingame glitch or something else but whatever.
i tried to repair the bad_data glitch but when i wanted to change the target it wouldnt let me, also there just stand sporetm, and its uneditable, im using windows 7, and this is really anoying as renaming your homeplanet to bad data also doesnt works, doel means target. please help--stay of my wodka, SUKA!!! 18:10, April 4, 2011 (UTC)
i got the answer, if you have windows 7 and you cant change the target go to your computer and type in the search spore and you will find 1 or maybe 2 folders named as spore™ go to property's and you would be able to change the target ;D should i ad this to the main page?--stay of my wodka, SUKA!!! 18:10, April 4, 2011 (UTC)
Now that looks better for me...
Edit
I've made some changes to clean the page and make it more "readable", to much content on one page can discourage people to read. Undo if you don't like.

Val (Mind Heist) 07:02, April 28, 2011 (UTC)
---
I think you have done a great job Valader, it is now much tidier and easily to read and access. --

Cyrannian - Fight the Future... 15:43, April 28, 2011 (UTC)
Aww, you did that? This page used to be the page I visit most often. More than once, I read through the entire page just to learn all the glitches in Spore. I think it should be changed back. Does anyone else agree with me? Zacadoole1 16:18, May 28, 2011 (UTC)
The cause of Timeline Scrambler Glitch
Edit
I've found why the history time line messes up!
If we do UNNECESSARY SOCIALIZING (making friend with a creature which is not a mission target) in an adventure of GA, the time line will leave the record of socializing, which is TREATED AS A STUFF OF CREATURE STAGE. The history time line is stored in "(home planet name).spo ." If there is a hacker who can help us, we will find a solution soon.
I believe that the time line is not messed up at all in low level view.114.24.234.163 08:52, August 29, 2011 (UTC)
If we can simply change those socializing events to "Traded spices once," the glitch must be removed instantly. Vlevin 13:06, August 29, 2011 (UTC)
Hi, I'm not a Sporewiki user yet, but my Spore screen name is Linneo2097. Since I had some troubles with my timeline (it's not really messed up like yours, but it has been added 4 billions years to the date. And although it isn't a very important problem I wanted to open the save files anyway and take a look at them). I searched information about .spo files: they are SPSS output files, which are somehow similar to Power Point, so I downloaded a free software to read .spo files called SPSS Smart Viewer, but it didn't work. I spent a lot of time looking for information on what could be the problem and I tried every possible extension that could belong to that file. Finally, yesterday I found a software that could discover its true extension and it turned out that [PLANETNAME].spo is not a .spo file, but rather a .package file! I renamed Eris.spo as Eris.package and I extracted it with Sporemaster. But the obstacles are not finished yet: in the archive there were just strange files with impossible file extensions such as "#01897C18" with a bunch of strange letters in them. Now I'm going to do some more tests with that software to see if it's able to recognize these files too, but I'm not sure if it will. Patch 1.5 changed many things in the game engine and I'm pretty sure it also implemented some kind of criptographic system, since it is no more possible to convert the spore music files into playable mp3 tracks.Please, if there is someone interested, answer me soon! 213.198.138.202 16:16, September 19, 2011 (UTC)

I have two .spo files. One right before and one right after history messing. Do you need them? Vlevin 13:35, September 20, 2011 (UTC)
No, Vlevin. If we find a way to edit the history with Sporemaster, people will be able to fix it themselves. I tried, but unfortunatelly the strange files won't open. I thought it would be easy :'( . I made just another small step, but now we need someone else's help! Of course i'll keep trying... 213.198.128.202 14:41, September 22, 2011 (UTC)
Oddball Captain Glitch
Edit

Okay, When I use a specific captain in an adventure, then try to share the adventure, the adventure card looks the same, except for the "shared" icon. The captain has all shaman parts, the level 1 health regeneration, and the level 1 jump and hover parts. If anyone else has this, can they tell me if there is a difference between the glitched adventure and a normal one (or the same with a captain) Can someone please help?

Resistance is futile! 23:06, December 14, 2011 (UTC)
Also it does not appear on spore.com and when i change the captain to another one, the adventure shared correctly. If no one replies i'm putting it on the GA glitches anyway.

Resistance

is

futile!

16:29, December 17, 2011 (UTC)
Planet Color Glitch
Edit
It happened to me once that when I use a terraforming tool over an unclaimed planet, the planet gets this ugly stuff.
I really don't know why it happened. --
Unknown IP
12:53, December 18, 2011 (UTC)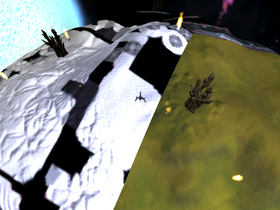 Cave Johnson, we're done here. Derksparr 13:22, April 30, 2012 (UTC)
Help with glitch in Cell Stage
Edit
I just bought the game, and when I load a new game at a planet, it shows the asteroid crashing cut scene, but after that, when the asteroid breaks into little pieces and the cell stage is suppose to appear, I get and no cell. Theres just the opptions and the other buttons, but my little cell wont appear. How can I fix this?
---
Two glitches one funny, one annoying
Edit
Okay, First for the funny one. This giant epic attacked my enemies cities and the vehicles sat there and did nothing. The epic knocked out the turrets then stopped attacking. Then it started to get mauled by the people in the city (which happened to be floating heads) and did nothing. I tried to attack the city then the vehicals sparng to life and destroyed mine then went back to sitting there. Now for the annoying one. I installed galactic adventures and I find myself unable to pick up bones, plants look like they're in water, and dead things stand up and I cannot eat them. Can anyone solve this?
---
Try Reinstalling. Worked for me. But you may get another bug then?
Sporpedia+space sporpedia
Edit
For some reason, when I go MyCreations>Creatures>Space, the relationship icon appears on the creature even though I am not In game!This cannot be intended as every savegame has different relationships. Not sure what causes it, but it might simply be encountering your own creation in the space stage. Metashadow555 (talk) 20:16, September 22, 2012 (UTC)Metashadow555