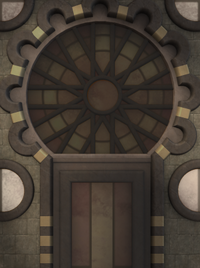 "Traders are in it for the profit. Their only allegiance is to the almighty Sporebuck."

- In-Game description
Trader Unique Power
Edit
The Traders acquire the Cash Infusion unique ability. Cash Infusion can be used to instantly fill the economic takeover bar for any system you have a trade route to, when you are in their star system.
Gaining The Trader Archetype
Edit
Through Evolution
Edit
The Trader archetype is awarded to species that gain a majority of blue cards, or reach Space from creature with one of each finishing on blue.
The recommended path is blue blue green blue.
Through Mission
Edit
First you must ally with an empire following this philosophy with a strength factor of 4 or 5, then you may request to become 'like' them from the mission interface. After paying §2,500,000, the mission given is to sell 5,000 items. Upon completion return to claim your reward and you will change your philosophy and associated archetype, losing your old superpower and gaining the Trader's Cash Infusion power.

Note that you may not sell 5000 items and then automatically complete the mission upon its acceptance. You must accept and pay for the mission first, THEN sell 5000 items.
Be sure that the Trader is not in war with another empire, otherwise, pick up the mission from the Trader's homeworld (this goes for any archetype, especially Warriors, since they constantly pick a fight with another empire). This is because if the planet in which you accepted the mission has a weak defense and is at war, it will be conquered. If the planet does get conquered, you will have to start the whole mission over, and you will have wasted your time doing the mission.
Trader's Philosophy
Edit
"As members of the Trader Empire, we strongly believe in the Philosophy of Prosperity. It teaches us to mind our own business, and to mind it very well. There's no other Empire in the Universe that can compete with our levels of operational efficiency! Although I must say, you look like a clever species, and I'll bet you're doing a heck of a job running your Empire, aren't you? Don't be modest, of course you are, or you wouldn't be here talking to me! Only the smartest species in the Universe know to seek out the Trader Empire for all their financial advisory needs. And only the smartest species in the Universe sign up for our training courses on the Philosophy of Prosperity. We also offer group discounts if you know any other Empires who want to learn the secrets of the Tablet of Prosperity. Sorry, no refunds."
Traders offer a wide variety of items, although they don't have the best prices.
Galactic Adventures
Edit

- Intern
- Analyst
- Executive Assistant
- Shift Supervisor
- District Manager
- General Manager
- Vice President
- President
- CEO
- Tycoon
Campaign Adventure
Edit
The Trader campaign adventure is Ruins of Doom, where the player is searching for The Golden Llama.
Captain Accessories
Edit
Trader Empires could be based on the Ferengi from the Sci-Fi series Star Trek, as all they are interested in is profit.
Sometimes after completing a mission for them, they will say they did it for The Grox.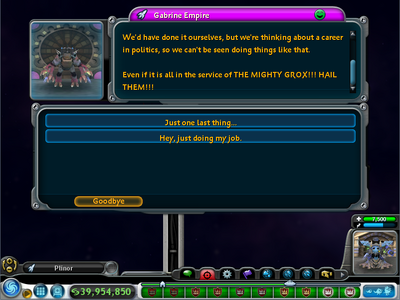 Sometimes after failing a mission or attacking them, they will "Tell the Grox on you!", meaning Trader empires may support or not-dislike The Grox, although they still, as all other types of empires, get attacked by the Grox sometimes.
After being attacked by the Grox, the trader can often be heard saying "Not Even!" when the player tries to talk to them.
Traders often flatter the player. This is occasionally followed by phrases such as "Will you give us money now?"
When the player trades with a Trader Empire, the speaker laughs, then says "I love you baby".