The Tribal Planner is the "editor" of the Tribal Stage.
In the planner, the player can place tool huts in their village and edit their species' clothing in the Tribal Outfitter. The player can also edit the rotation of the tool huts and remove them for food.
The tool huts the player can add are divided into three categories:
Food and Gathering
Edit
Tribal Outfitter
Edit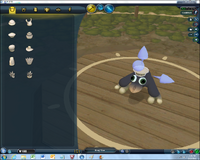 Within the Tribal Outfitter is a list of available by default and won by capturing other tribes clothing, which can be placed on the player's creatures. All creatures in your tribe will get clothing when you give them to the player's creatures in the outfitter.
Ad blocker interference detected!
Wikia is a free-to-use site that makes money from advertising. We have a modified experience for viewers using ad blockers

Wikia is not accessible if you've made further modifications. Remove the custom ad blocker rule(s) and the page will load as expected.